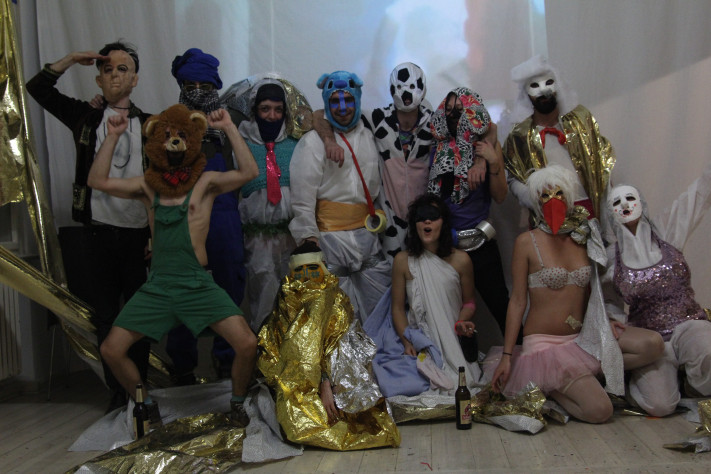 ESOC ist eine experimentelle, offene Gruppe von internationalen KünstlerInnen, die insgesamt auf fast 100 Veranstaltungen, reichend von Raves bis zu Kunstgallerien, auf Performance-Events, in öffentlichen Einrichtungen und auf Balkonen, aufgetreten ist. Die Zusammensetzung der Gruppe ändert sich ständig. So ensteht ein lebendiges Konzept und eine lebendige Gruppe, die sich konstant weiterentwickelt, indem sie sich an die Bedingungen jedes neuen Kontexts anpasst, in dem sie auftritt. ESOC arbeiten mit Improvisation, Musik, Performance, Farbe und Essen um jedes Mal aufs Neue ein einzigartiges Erlebnis zu erzeugen. 
Wann: 05.11.2016
Titel der Arbeit: "ESOC"
---
ESOC is an experimental open group formed by international artists. They have played in almost 100 events, from raves to art galleries, at performance events, in institutions and on balconies. The structure of the group is changing constantly, creating a lively concept and group that evolves constantly, adapting to the conditions of each new context they perform in. ESOC work with improvisation, music, performance, paint and food to create a unique experience every time.
When: 05.11.2016
Title of artwork: "ESOC"